Estion
Estion Daily Facial Moisturizer
With SPF 25 soothes and hydrates skin while insuring protection from the damaging effects of sunlight in both the UVA and UVB ranges.
Size: 1.5 oz
Price: $24.00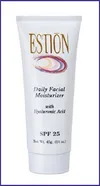 Exuviance
Hydrating Hand and Body Lotion
This treatment rich hand and body lotion was developed to provide long-lasting moisture while brightening the skin and enhancing skin cell turnover. Contains Gluconolactone (a Polyhydroxy Acid) and a soothing and moisturizing blend of botanicals.
Size: 7.2 oz.
Price: $30.00